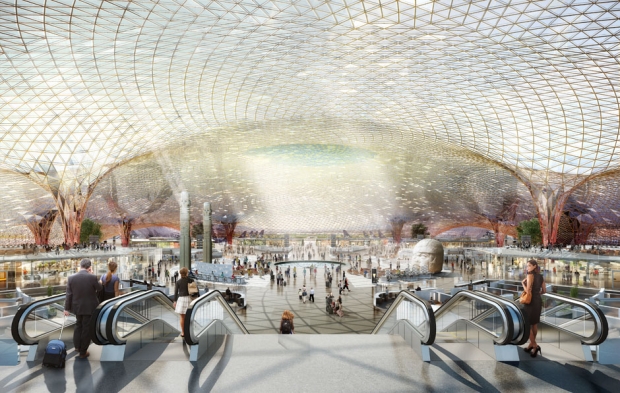 Complex projects demand a unique approach to project delivery that is data-driven, visual and fluid. Such was the case at the new International Airport in Mexico City. To meet those demands, Trimble was selected by Fernando Romero Enterprise (FR-EE) to provide consulting services for the NAICM (Nuevo Aeropuerto Internacional de la Ciudad de Mexico). 
Trimble will support the use of a BIM (building information modeling)-enabled PDS (project delivery system) by FR-EE and Foster + Partners joint venture.
The PDS will be used to manage and deliver the airport's final design phase. As part of the consulting services, Trimble will also assist in defining and implementing processes and technologies that will enable FR-EE to create and maintain constructability throughout the airport project.
The Mexico City New International Airport, designed jointly by FR-EE/Fernando Romero Enterprise and Foster + Partners, is a new greenfield airport being built in Mexico City to replace the existing Benito Juarez International Airport.
The project is being developed by Mexico's SCT (Secretariat of Communications and Transport) as part of the transport development plan announced by Mexican President Enrique Peña Nieto, who allocated US$9.2 billion in September 2014 for the initial construction phase. It is one of the world's largest airport infrastructure projects and is expected to be the largest airport in Latin America.
The NACO design team from The Hague, collaborated with the Foster + Partner team in London to prepare an innovative and symbolic solution for Mexico City's challenging environment. This Greenfield airport is designed to be one of the world's largest and most sustainable. At 555,000 square metres the design and engineering team has created an energy efficient and continuous flowing single roof structure.
Data will be exchanged with the partners online so there can be a realtime designing process.
The adventage is that Conflicts can be detected very quickly.